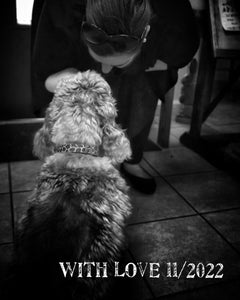 The CEO's (Buddy) Christmas Wish
Regular price
Sale price
$5.00
---
Friends it is with great sadness that I share The CEO has strutted across the Rainbow Bridge in true Buddy fashion.  He struggled with his health in the last weeks, this morning he closed his eyes for the final time. His heart was so full of love for everyone he met. Let's be honest it took a bit of time at first, but once he realized that momma would kick the fanny of anyone who would try to hurt him his guard came down and he loved and received love. He finally got to just be the sweet boy he truly was, the Bon Vivant of Milwaukie. The CEO led his final meeting this week and asked me to share the letter and his WISH below just before he untied his bowtie for a rest.   
To my friends and family-
It was a beautiful morning, I got to party in the driveway with my friends eating lots of snacks. I felt so loved when I set off on my heavenly adventure.  Momma was right the bridge was cool to strut down, when I got to the other side, there were my grandparents.  Grandma had treats, hugs, and kisses, grandpa had the ranchero ready to take me for a ride. Things are looking good here. 
 I am so going to miss my momma; she loves me like crazy and never once did I doubt her love. She taught me to trust, about kindness, to love from my whole heart.  I never knew what that was like in my previous life.  My first family did the best they could, and without that life I might never have met momma.  Can you even imagine? 
Momma and I discussed the future of K.MARIE. She isn't certain what that looks like without me. I told her, it will be filled with glitter, love and kindness all the things I wish every puppy knew while waiting to be rescued. You may not know every year I ask momma if we could take toys and treats to the shelter, spread a little love to my friends waiting for their forever home.  I was worried that I couldn't do this. 
My wish:  We set up a link on the website, I'm techy like that, and I'm asking if you could contribute to the BUDDY WISH, so that momma can fill our car full of toys & treats for the shelter(s) at the holidays. My shelter friends need love, kindness and to believe.  I'll supervise from heaven and make sure momma gets the right toys and treats.  I would love if you could help me make my WISH come true. 
I'm going to miss everyone; know I have had the most wonderful life.  Keep an eye on my momma, she is going to need a tissue, a laugh and probably a glass, oh let's face it, a bottle of champagne.  I know she will be toasting and loving me in her heart forever.    
My legs are no longer shaky, and my wiggly butt can't stop wiggling.  I'm off to love and be loved.  I will dream about my life with momma, and forever carry myself in glitter, love, and kindness. 
Love to you all
Buddy-The CEO